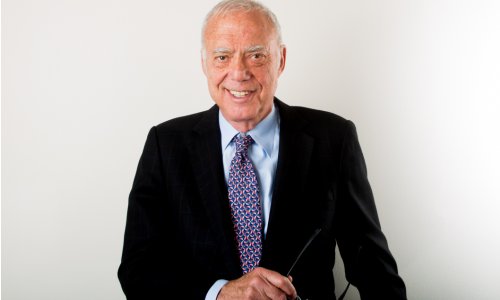 Arthur Winn
Arthur M. Winn founded WinnCompanies in 1971 at the genesis of the affordable housing industry and Boston's evolution into a modern city, establishing himself as a pioneer in the development and management of top quality low- and mixed-income communities, as well as commercial properties.

Arthur Winn started the business with four core beliefs:
Long-term partnership is more important than short-term profit;
Don't be afraid to think differently about affordable housing development;
Differentiate by always delivering top quality; and,
Create and nurture relationships of trust with stakeholders, particularly residents.
This perspective laid the foundation for the guiding principles of WinnCompanies, which has evolved into one of the most trusted companies in the multi-family industry. Under the leadership of Mr. Winn's son, Gilbert Winn, the company continues to pursue its core mission to create and champion the best possible living communities through a passion for excellence and a commitment to exceed expectations.

The signature residential properties that enabled Arthur Winn to generate early momentum for the company remain part of the WinnCompanies Massachusetts portfolio today, including Pequot Highlands, a 250-unit community in Salem; Coes Pond Village, also 250 units in Worcester; The Village at Brookline, 306 units in Brookline; and, Mystic Place, a 465-unit community in Medford.

In his first decade as CEO, Mr. Winn expanded the company's affordable housing work to the other New England states, as well as to Georgia, Pennsylvania and Washington, D.C. Commercial developments, especially the Bostonian Hotel near Faneuil Hall and the One Brookline Place medical offices in Brookline Village, also were important demonstrations of the company's ability to succeed outside of the housing space. Under his leadership in the 1990s, WinnCompanies became known along the Eastern Seaboard for its ability to turn-around troubled properties and as a pioneer in the adaptive reuse of historic properties for affordable housing.

Two Boston projects – the Castle Square Apartments in 1992 and Mission Main in 1996 – cemented Mr. Winn's reputation for enlightened property management and tenant relations. In both cases, Mr. Winn leveraged groundbreaking U.S. Housing & Urban Development programs to transform the quality of life and forge unique joint venture partnerships with the tenants as majority owners of the properties. Mr. Winn has been honored with numerous awards for professional achievement and community service, including:
The 2001 "Excellence in Affordable Housing" award from the Massachusetts Housing Investment Corporation, a leading private investor and lender specializing in financing affordable housing and community development;
The 2005 Distinguished Service Award from the Real Estate Finance Association, a leading trade association for commercial real estate finance professionals; and,
The 2009 Corcoran Award for Excellence from the Board of Trustees of the St. Mary's Center for Women & Children, a small non-profit in the Dorchester neighborhood of Boston that supports 500 women and children annually with shelter, clinical and educational services, job training, employment placement, and search for affordable permanent housing.
A well-known philanthropist in the Boston community, Mr. Winn has been an active supporter of dozens of civic and philanthropic organizations, including AJC Boston, the Anti-Defamation League, National Night Out, Combined Jewish Philanthropies, the Landmarks Orchestra, Boys and Girls Clubs, the Dana Farber Cancer Institute, Facing History and Ourselves, among others.

He is a graduate of the University of Massachusetts and Harvard Business School.