News
Empire State Development Announces Construction Underway for The Commissary Downtown Kitchen Incubator at Sibley Square
Nov 14, 2019
State-Of-The-Art Commercial Grade Kitchen Facility in Rochester's Downtown Innovation Zone Will Help Food Entrepreneurs Launch and Grow Their Business
ROCHESTER (Nov. 14, 2019) – Empire State Development (ESD) today announced The Commissary Downtown Kitchen Incubator has officially kicked off construction on its food business incubator and shared kitchen facility. Located at Sibley Square, the project will involve the transformation of 6,500 square-feet of space inside the former department store into a commercial grade kitchen facility where food entrepreneurs can launch and grow their businesses. Members will be able to rent time in the kitchen on an hourly basis and gain access to food industry workshops, mentoring, training, and business support services. Commissary officials estimate that more than half of their member businesses will be women owned and more than a third will be minority owned. In fact, more than 150 local food entrepreneurs have already expressed interest in the projects shared kitchen and incubation services. Empire State Development is assisting The Commissary project through a $213,500 Capital Grant. The total project cost is a little more than $2 million. The Commissary is expected to open in the Spring of 2020.
"The Commissary food business incubator adds to the entrepreneurial energy of Rochester's Downtown Innovation Zone, which is already home to many talented tech companies that are creating good-paying jobs and further building the Finger Lakes economy," said Empire State Development Acting Commissioner and President & CEO-designate Eric Gertler.
The Commissary expects to spur the creation of startups including packaged food and beverage manufacturers, restaurants, bakeries, caterers, food trucks, virtual restaurants and help legitimize underground food businesses by reducing the otherwise high cost of creating a licensed commercial kitchen. It will also house a Performance Kitchen where startups can promote and sell their products to the public, hold food events, and host cooking classes.
Rochester Downtown Development Corporation (RDDC) President Heidi Zimmer-Meyer said, "You don't need a PhD to start a food business, and this project will provide incubation services and lower business costs for food-oriented entrepreneurs. Designed to de-risk a relatively underserved slice of the economy, The Commissary will create a powerful safety net where food businesses can be tested and successfully launched. Filling a gap in our urban entrepreneurial ecosystem, this project strengthens a viable pathway to prosperity and helps build street level businesses – all good for downtown, city neighborhoods, and Rochester's growing foodie culture."
The Commissary is part of the rebirth of the in the refurbished Sibley Square building in Rochester's Downtown Innovation Zone (DIZ). The former department store and historic landmark is home to commercial, office and residential space and to several companies including Catalant Technologies- and to business incubator NextCorps which is serving as the administrator for the Luminate NY competition. Now in its third round, Luminate NY is the world's largest startup accelerator program for optics, photonics and imaging technologies. According to the RDDC, the DIZ is home to 195 businesses that are working to support the city's evolving, vibrant downtown area. Sibley Square is also home to the Rochester Institute of Technology's City Art Space gallery and to its video game development hub, Roc Game Dev.
Downtown Rochester's continued momentum is also complemented by the comprehensive "ROC the Riverway" initiative announced by Governor Cuomo in February of 2018. The 13 selected phase one projects, funded by a $50 million Finger Lakes Forward Upstate Revitalization Initiative grant, aims to revolutionize the area surrounding the Genesee River and unlock the potential of Rochester's waterfront.
In addition to the assistance from ESD, The Commissary project is also receiving support from a federal grant, WinnCompaines, and from the City of Rochester among others.
Finger Lakes REDC Co-Chairs, Monroe Community College President Anne Kress and Rochester Chamber of Commerce President & CEO Bob Duffy said, "The Commissary and initiatives like "ROC the Riverway" and Luminate NY are truly working to transform Downtown Rochester. The regional council is committed to building on the magnificent transformation that is happening Downtown and to creating an exciting environment where people, young and old, want to live, work and play."
Senator Joe Robach said, "The Commissary Downtown Kitchen Incubator is going to be a great addition to the hub of activity that is taking place at Sibley Square. It is exciting to see a variety of innovation and creativity contributing to the rebirth of downtown Rochester, which is helping to grow jobs and foster ideas for future business growth."
Assembly Member Harry Bronson said, "This investment will put job opportunities on the menu for so many across our community. Building a business is never an easy task, but with the right kind of help and encouragement, like the Commissary Downtown Kitchen Incubator offers, our local entrepreneurs will have a chance to show the world what they can do. I applaud Empire State Development Acting Commissioner and President & CEO-designate Eric Gertler for his commitment to this project and the families of Rochester.
Rochester Mayor Lovely Warren said, "The Rochester Commissary will be an excellent addition to Downtown Rochester. Not only will this facility help us create jobs all across our region and add to the growing vibrancy of the Sibley Building and our city, it will give our residents an opportunity to fulfill their dreams to start businesses in the food industry," said Mayor Warren. "I want to thank the many partners at the federal, state and local levels who made this project possible. Together, we are creating more jobs, safer and more vibrant neighborhoods and better educational opportunities for our citizens."
Gilbert Winn, CEO, WinnCompanies said, "WinnCompanies is thrilled to welcome the Commissary Kitchen Incubator to Sibley Square. Strong partnerships with the business community and state and city officials continue to advance the revitalization of downtown Rochester."
For more information about the Commissary Downtown Kitchen Incubator, click here.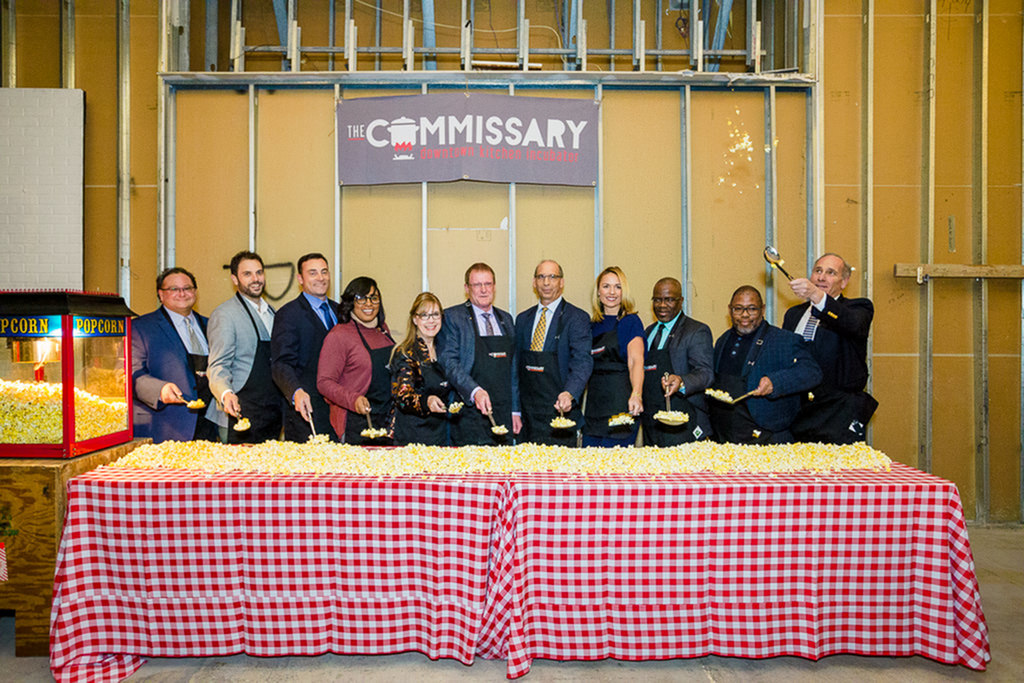 From left to right: Chris Zeltmann, Regional Director, U.S. Senator Charles E. Schumer's Office; Mitch Gruber, City of Rochester At-Large Councilmember; Vincent Esposito, Regional Director Empire State Development; Mayor Lovely Warren, City of Rochester; Heidi Zimmer-Meyer, President, Rochester Downtown Development Corporation; Kip Palmer, Owner and President, Palmer Food Services; Joe Rizzo Manager, Economic Development Director, RG&E and NYSEG; Laura Fox O'Sullivan, President, The Commissary; Dr. Joel Frater, Chair, Rochester Downtown Development Corporation & Executive Dean MCC Downtown Campus; Michael Patterson, City of Rochester District Councilmember; Ken Greene, Sibley Square Asset Manager and Curator of Commercial Development, Winn Companies